Fig 1 | Norman McLaren Busy Working
His '
Lines Vertical'
piece was part of his
'Art In Motion'
project and was literally a piece that focused on vertical lines moving sideward as it was in sync with music playing.
As the lines continue to move from side to side they multiple and produce complex imagery which messes with human eyesight as well as in some case fake 3 dimensions.
In turn, allowing us to see how animation can be used in trickery and illusion.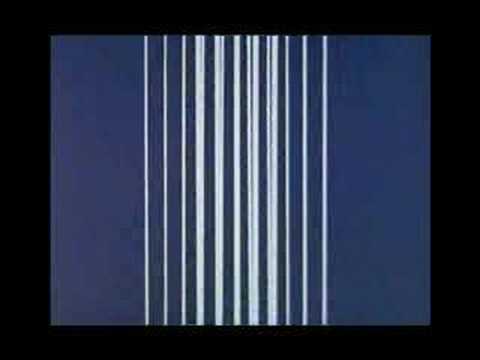 Fig 2 | Lines Vertical Screenshot
However the '
Pas De Deux'
piece from his
'Dance'
felt more complex as it used really film with and overlay of scene to create a ghost effect. The film focuses on a woman dancing and leaving a ghost trail as prance across screen
which continues when a male figure enters and duets with the woman. It notable that the shorts focuses on shape as the ghost echoes create complex shapes in the trail of the animation and put in to perspective the beauty of movement.
Judy Mitoma
states this as she says
'Norman McLaren...had just opened up a whole new world of perspective of the representation of movement on screen.' (Mitoma, 2003; 169).
In turn the story illustrates the potential of his technique of
Optical Printing'.
Fig 3 | Pas De Deux Screenshot
Fig 1 Norman Mclaren: http://en.academic.ru/pictures/enwiki/78/Norman_McLaren_drawing_on_film_-_1944.jpg
Fig 2 Mclaren,Norman (1960) 'Verticle Lines' Screenshot
[Film Still] Verticle Lines
Fig 3
Reiniger,Lotte
(1968) 'Pas De Deux' Screenshot
[Film Still] 'Pas De Deux'
Kransner, Jon S. (2004) Motion Graphic Design & Fine Art Animation
, Linacre House, Jordan Hill, Oxford OX2 8DP, UK: Gulf Professional Publishing
Mitoma,Judy (2003)
Envisioning Dance On Film And Video, Routledge, 11 New Fetter Lane, London EC4P 4EE:
Routledge
Nelmes, Jill (2004) An Introdution To Film
,
Routledge, 11 New Fetter Lane, London EC4P 4EE:
Routledge
Rosenthal,Alan (1972)The New Documentary In Action a casebook in film making.
University of California Press, Ltd, London, England: University of California Press